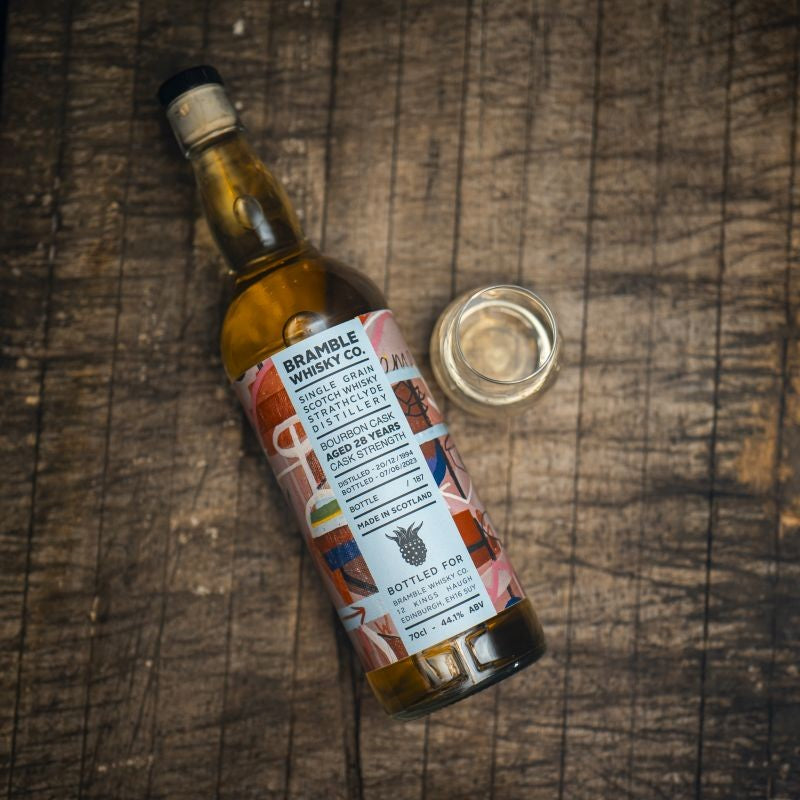 Bramble Whisky Co #6 Single Cask Strathclyde
Regular price £95.00 Sale
The newest, and by far the oldest release from Bramble Whisky Co.
A rare single grain whisky from Strathclyde Distillery.
We're very grateful to the one and only Ryan Chetiyawardana for providing these tasting notes:
On the nose
Dandelion, peach, milk toffee, gorse, guava yoghurt, custard danish, red peppercorn.
With water much more toasted oak and macadamia.
On the palate
Creamy with a long spice. Soft custard danish returns but with a fresh hazelnut note in the middle. With water, super floral and creamy but with a long wood spice.
Finish
Nettle, nice biscuit, soft leather and tropical honey
- Distilled 20/12/94
- Bottled 07/06/23
- Full term bourbon cask matured
- 44.1% ABV - natural cask strength
- Only 187 bottles in existence!
- 70cl
The Artist
Andrew Weir's captivating artwork has graced galleries across Europe, Australia, Asia, and North America, earning a place in private art collections around the world. If you're eager to add one of his remarkable paintings to your collection, feel free to contact Andrew at agnosticforms@gmail.com or reach out to us for further details.
"In many ways my artwork is an attempt to find a balance between abstract painting and graphic processes" ~ Andrew Weir